Movie Stars Storm Amaka Igwe's Tribute Night In Lagos (Pictures)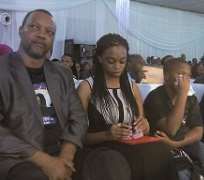 As preparations are on the way ahead of the burial of Nollywood's veteran producer, writer and director, Amaka Igwe, accolades have continued to pour in, in remembrance of the late icon of the Nigerian film industry.
At the service of songs held at The Havens Event Centre in Ikeja, Lagos, celebrities who have worked with her on set, students whom she mentored, friends and families were full of praises as they wished to emulate Amaka's lifestyle which they described as an investment left on earth by her.
Veteran actor, Richard Mofe Damijo, who happened to be the anchor at the service of songs, disclosed to Nollywoodgists.com that Amaka Igwe helped and taught him how to improvise at any given challenge.
According to him, she allowed him (RMD), to create and learn more. 'She was an amazing woman; she had an amazing eye for details and she stood for what was right; It's like saying if a tree is not good, the fruits will not be good.'
He advised the up and coming acts to always try and listen to details, intellectualize their subjects, and not think that there are short cuts to success.
Actress, Ngozi Nwosu, who was a part of Amaka Igwe's popular TV comedy series 'Fuji House of Commotion,' described her late boss as a woman of virtue.

'Amaka was a woman who has been able to impart in people's lives. A woman who has written her name in the minds of many families and will never be forgotten,' she added in tears.
Several actors were present at the event held yesterday and they include Nobert Young and wife, Gloria; Teco Benson, Fidelis Duker, Victor Osuagwu, Gloria Doyle, Olu Jacobs and Bukky Ajayi.