Obiano Commissions Anambra's 4th Prison in Nnewi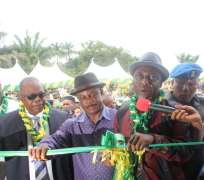 Anambra State governor, Chief Willie Obiano has commissioned the Nnewi Prisons, bringing the number of correctional facilities in the state to four.
The prison is one of the 47 prisons conceived by the former President, Alhaji Shehu Shagari administration in 1981 and has the capacity to harbour 160 inmates in modern facilities.
Commissioning the new prisons, governor Obiano explained that the new prison would help to decongest some of the over-crowded prisons in the state and disclosed that he was working with the State Chief Judge to ensure quick dispensation of justice and reduction in the number of people awaiting trial in Anambra State.
The governor assured that the State government would construct an access road to the facility and also brand a new bus and Black Maria to enhance prisons service in the state.
The governor urged the prisons authorities to review the Education curriculum and tailor it towards equipping the inmates with knowledge and skill to become productive so as to integrate effectively into the larger society after their incarceration.
He explained that in addition to fighting crime, his administration was also providing jobs to youths to keep them actively engaged.
Also speaking, the Minister of Interior, Comrade Abba Moro pointed out that the new prison would provide accommodation to ever-increasing number of prisoners in the country and facilitate the training objective of reformation, rehabilitation and reintegration of inmates.
Moro disclosed that over 70 percent of prison inmates were awaiting trial and called on states to collaborate with the Federal Government to improve the conditions of prisons, noting that over 80 percent of prison inmates were from the host State.
He pointed out that the State was lucky to have a governor like Obiano who he said was responsive to the needs and aspirations of the people.
In their separate speeches, the Chairman, Senate Committee on Interiors, Senator Atiku Baguda and his House of Representatives counterpart, Comrade Ahmed Bature commended governor Obiano for his decision and commitment to prison reforms and urged other stakeholders to emulate him.