EXCLUSIVE: Budding Artiste, Ewa Admits Stealing 2Face's Song; Apologises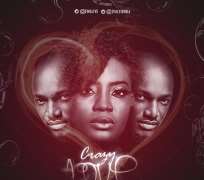 For some time now, there has been a controversy over the release of a new song by an up and coming female singer, Ewa. The hullabaloo surrounding the single entitled 'Crazy Love', was that 2Face did not actually feature in the song as being claimed by Ewa and her team.
A statement released from 2Face's camp some hours ago over the matter stressed that the single 'is an illegal manipulation and super-imposition on 2Face's unreleased song titled 'Could This Be Love'. This odious and fraudulent act is not only condemnable but also an assault to the integrity of the entertainment industry which thrives on creativity and hard work.'
The press statement further threatened that 2Face 'shall employ the full force of law to enforce the breach of his reproduction, publishing, performance, communication rights which have been breached' based on the 'Copyright Act Cap C28, LFN 2004.'
In our fact-finding mission, Nollywoodgists.com contacted Ewa to get her side of the story. Her representative, who spoke with us, admitted that the young singer infringed on the intellectual property of the African music star.
'We can only apologise because 2Face has the right to the song and we were under the impression that it was an opportunity for us to buy the song (from him), but that (later) wasn't the case,' the rep told Nollywoodgists.com.
'The matter has been resolved between both parties,' he said.
When asked if 2Face was in the studio with Ewa, the rep said, 'no, he (2Face) was never in the studio with us. We only used his part (voice) on the song, (which) done by the producers we worked with. They are actually our producers.' But when pressed to mention the names of the producers, he said, 'I can't mention their names, I am sorry about that.'
Meanwhile, we gathered that Ewa has released another song entitled 'Freedom', a song calling on the release of the kidnapped Chibok girls.