Stella Damasus Is My Confidant—Daniel Ademinokan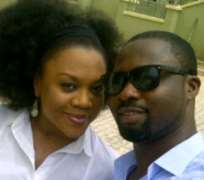 The true relationship status between Daniel Ademinokan and Stella Damasus has always been argued among some of their fans.
And no matter how hard both try to explain that there is no romantic link between them, events surrounding them point to the direction that there is more to the mere business relationships they claim to be between them.
Daniel and Stella have also not ceased to publicly display their special love for each other.
For some time now, the alleged lovers have been posting each other's pictures on their Instagram pages and writing nice things about each other. The latest is Daniel, who has now left many tongues wagging, with some insisting that the two have an intimate relationship with each other.
The handsome film director posted Stella's picture on the internet and wrote, 'that special someone (referring to Stella) who always comes through. Real person; trusted (and) undefeated.'