I Am Being Impersonated, Banky W Cries Out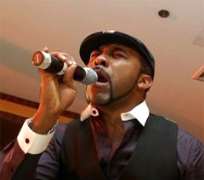 One of Africa and Nigeria's R&B artists, Olubankole Wellington alias Banky W, has cried out that people are impersonating him to defraud innocent Nigerians.
Reacting through his Twitter handle, @BankyW, he said it is unfortunate people still fall victims of the impostors despite alerting people to the devices of the scammers.
'We are doing the best we can but there are now so many cases that we can't keep up with everyone. So pls be smart. I have tweeted, done press releases, had some ppl arrested but the problem never goes away. We just caught one that said a girl should pay N50k for a form and sleep with 1 guy and she wld get a N15 million samsung deal. RUBBISH,' the Mr. Capable crooner wrote on his timeline.
The Chief Executive Officer of Empire Mates Entertainment (E.M.E.) record label advised his fans not to be fooled.
'He that has ears, let him hear. Don't be fooled by these fraudsters. Don't pay money to anyone promising u a deal with EME or anyone else. Pls note that for any EME Business, if it doesn't come from [email protected] it is fake,' Banky W counselled.
A fan with the name Boluwatife, @olonsho455, said he paid N170,000, to Banky W's manager last week Thursday, but Banky W tweeted back that,'U just paid a 419 guy.'
The singer who has an educational foundation,'I AM CAPABLE' scholarship fund, prays that God rewards the people impersonating him and stealing money from upcoming artistes.
'May God reward all these 419 boys that keep impersonating me and my staff, stealing money from upcoming artists,' he said.
Banky cautioned that if a label wants to sign a new act, the label will pay to take care of the artiste, so upcoming artists should wise up.
'This goes for models tooanyone pretending to be an agent that tells u to pay money to get a modelling deal is lying.'
Banky W was one of the frontline artistes who mobilized Nigerian youths to participate in the Occupy Nigeria protests in January 2012. He has four albums to his credit and one extended play, 'Undeniable' released in 2003.