Nigeria: Resident Doctors Begin Strike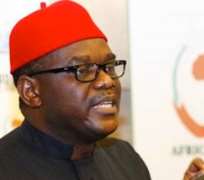 Nigerian doctors under the aegis of the National Association of Resident Doctors of Nigeria (NARD) have commenced a three-day warning strike to warn the government to fulfill all agreements with them.
Briefing journalists at Aminu Kano Teaching Hospital (AKTH), NARD President, Dr. Jubril Abdullahi said the warning strike which is slated to end by Thursday was necessary to remind the Federal Government on the need to fulfill all agreements reached concerning the welfare and working condition of their members.
NARD accused the Federal Ministry of Health under the supervision of Dr. Onyebuchi Chukwu of insensitivity and lack of commitment to the plight of resident doctors in Nigeria.
The doctors are demanding full implementation of the payment of their outstanding salaries and allowances.
According to Dr. Abdullahi, the grouse of the resident doctors include the issues of relativity in salary between doctors and other health workers as well as skipping of Grade Level 12.
The resident doctors further submitted that there was need for the Federal Ministry of Health to adopt world standard and best practices in terms of salary structure, pointing out that there is nowhere in the world where doctors' salaries are at par with that of other health workers.
Dr. Abdullahi also announced that the resumption date for the three-day warning strike will be on Thursday, June 5, while noting that NARD being aware of nagging security situation in the country may give peculiarities to emergency services for the sake of common Nigerians.
He warned that if the government failed to implement their demands, the doctors will not hesitate to embark on an indefinite strike from July 1, 2014.
Among the demands of NARD include full payment of salaries of their members at the Federal Medical Centre, Owerri. 'We are dismayed by the fact that the payment was only for September salaries of resident doctors and one month rather than two for the outgone House Officers.
'Similarly, the current batches of House Officers in the same institution were just paid two months' salary rather than three months as was done to the interns of other professions that came in together with them.
'Moreover, no explanation was given for this aberration. In a nutshell, two out of three months' payment was made and another one month withheld,' Dr. Abdullahi stated.
He added that the Federal Ministry of Health under the watch of Dr. Onyebuchi has shown lack of commitment towards the resolution of the current impasse, pointing out that, 'after exhaustive deliberations with local chapter presidents and other stakeholders, NARD hereby rejects what the government offers regarding these issues.'