42 Borno Villagers Feared Dead In Fresh Border Attacks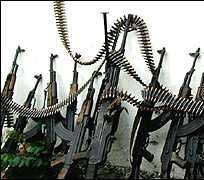 Barely 24 hours after the Emir of Gwoza , HRH Shehu Idris Timta was killed , by suspected Boko Haram gunmen, another group of Islamists militants in 20 Toyota Hilux vehicles and motorcycles have attacked three border villages in Ngala Local Council of the state; and killed 42 people in the early hours of Saturday.
Ngala is a border council area with Cameroon, and 138 kilometres northeast of Maiduguri, the state capital.
Property destroyed in the seven-hour attack that commenced by 3am Saturday, include torching several houses and huts and the injuring of 16 people that attempted to protect their houses from being razed down with explosives and Improvised Explosive Devices (IEDs).
According to an anonymous villager that escaped to Cameroon, who spoke on phone,'we were shocked and terrified, when a convoy of 20 Hilux vehicles and motorcycles, laden with explosives and petrol-bombs burst into three villages of Ngala Local Government Area; and chantinh Allahu Akbar (God is great ) in Arabic, before firing at any person fleeing the village.
"By 5am, the insurgents proceeded to another village, five kilometers from the other; and directed the people to come out before their houses were set ablaze.'
'Iam lucky to have escaped from the attackers who ckaimed that they were doing the work of God; some of my neighbours were shot infront of their wives and children. These gunmen are heartless."
After killing 20 people in the first village, they proceeded to slay other 20 in our village, while the third village had a casualty of two killed by slitting their throats ,"
After killing our peopleand burning their houses, many cattle, camels, sheep and goats were also driven across the border to Cameroon, leaving behind only handful of chickens and ducks that fled into the bush our source said.
As I speak to you from this border location in Cameroon, the bodies are still lying in front of the torched houses, and mosques, in which some of the villagers took refuge before they were killed .
The Borno State Police Commissioner, Tanko Lawal confirmed the multiple border village attacks and killings.
He said no arrest had been made by either the police or military.