Yobe raises 1m tree seedlings to combat desertification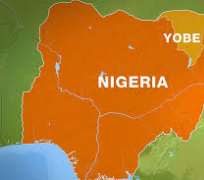 The Yobe State Government said on Friday that it raised one million assorted tree seedlings for the establishment of shelter-belts across the state to combat desertification.
The Commissioner for Environment, Alhaji Idi Gubana, announced this in an interview with the News Agency of Nigeria in Damaturu, the state capital.
'The shelter-belts are to serve as wind breakers to reduce the effects of winds that cause erosion, leading to the desert moving further into the hinterlands.
'The Yobe State Government is collaborating with the Federal Ministry of Environment to implement the Great Green Wall Programme aimed at establishing orchards and tree plantations to serve as shelter-belts.
'The government has provided land for the Green Wall project and sensitised host communities for active participation and success of the programme.
'The state Ministry of Environment has also embarked on the excavation and evacuation of water ways and drainage as the rains intensify.
'At the commencement of the season, we embarked on the evacuation of waterways and drainage in the five major towns.
'The towns include Damaturu, Potiskum, Gashua, Giedam and Nguru, and this was to allow free-flow of rain waters to avert floods,' he said.
Gubana said the ministry had evacuated refuse dumps in the five major towns to check water stagnation and outbreak of diseases.
'We are also working toward collaboration with the Federal Government through the ecological funds to erect embankments in Gashua and Nguru.
'This is to check excessive water from River Kumadugu Yobe, that causes yearly floods in the two towns,' he said.
He said that the ministry had intensified sensitisation campaigns against illegal felling of trees, bush burning and arbitrary disposal of refuse, adding that the efforts were yielding positive results.
'Similarly, the ministry has engaged 500 casual workers to ensure periodic clearing of the drainage and general sanitation in the major towns of the state,' Gubana said. NAN