The Book Tour Continues – Chude Jideonwo Takes 'Are We The Turning Point Generation' To Taruwa, CC Hub, Abuja And London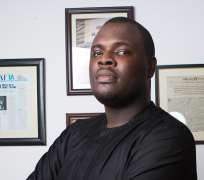 Following the launch of Chude Jideonwo's book 'Are We The Turning Point Generation' on May 25, 2014 at the Federal Palace Hotel, Chude Jideonwo continues his book tour from May 27 to June 6, 2014 beginning with the Taruwa Pre-Festival Edition.
The Pre-Festival Edition preceding the Taruwa Festival slated for 4-7 June 2014 will feature a book reading by Chude Jideonwo from his new book which is a collection of essays written by the renowned entrepreneur and young leader which captures the evolution of youth-led ideas in managing Africa's leadership and social development challenges.
The author would also join the Co-Creation Hub, Yaba Lagos on May 30, 2014 and Abuja Writers Forum on May 31, 2014 for book readings.
GenVoices UK on June 6, 2014 will host Jideonwo as a special guest speaker at GenTalks UK holding at the University Of Greenwich, Queen Anne Building. The author would have a book presentation at the event themed 'The Future Of Enterpreneurship In A New Nigeria'. Other speakers include Seun Onigbinge; Founder of Budgit and Investment Accountant; Feyi Fawehinmi.
About Chude Jideonwo
Named by Forbes as one of Africa's 30 best entrepreneurs under 30, Chude Jideonwo's career is centred on using the media as an active tool to galvanise a generation of Africans to action. He is Managing Partner of RedMedia Africa, owners of The Future Africa Awards Africa & Summit, Y! Africa, and YNaija.com; and founding Executive Director of The Future Project, which empowers young people across Africa through leadership and enterprise. In 2010, he founded EnoughisEnough Nigeria, which has become the country's foremost good governance group for young Nigerians. A lawyer and award-winning journalist, he has a Master's Degree in Media and Communication from the Pan-African University. He is a Global Shaper with the World Economic Forum and sits on the boards of the Oando Foundation and Micosoft4Afrika.
About Red Media Africa
Red Communication is a PR & Communication firm under the parent company, RED. An innovative media group focused on Africa, RED's vision is to excite and empower an evolving generation through the media's limitless possibilities. Built across tools and platforms, its Communication Division holds Red Communication, Red Marketing and Small & Medium, and YouthConnect; and its Content Division holds the Y! brands, including Y! TV, Y! Magazine, YNaija.com, Teen Y!, Y! 2015, the Y! Tech 100 and the Y! Annual Black Ball/Y! 100 Most Influential List. It also anchors a development firm, The Future Project Africa, which co-presents Africa's leading youth platform, The Future Awards Africa, and other projects including the Nigeria Symposium for Young & Emerging Leaders and The Future Enterprise Support Scheme.
ARE WE THE TURNING POINT GENERATION - BOOK COVER
CHUDE-07 (3)