Ice Prince Questions President Jonathan Over Plateau Bombings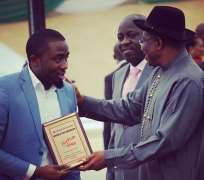 Various celebrities may have shown their care about the abducted girls in various ways, but one person that is angry about the whole situation is Chocolate City Rap star, Ice Prince Zamani.
The artiste has questioned President Goodluck Jonathan on what his intentions is on the current bombing in some part of the northern states in Nigeria.
Ice Prince who is one of the President's favourite artiste, who also received an award in the year 2013 along with his colleague M.I Abaga as NASCOM Rhythm & Play Ambassadors, from the President, is now angry with the president's slow pace to curtail the insurgents menace going on in the country.
The superstar's anger arose on the heels of the recent bomb blast which rocked his state, Plateau, killing about 200 people.