Sexual Harrassment Is Common In The Music Industry ---Favour Ndukwe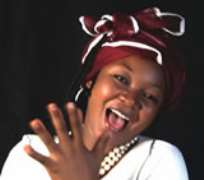 She is young, beautiful and passionate about her music. Her name is Favour Ndukwe, the gospel artiste that rocked Nigerian music airwaves with The Name Jesus in 2007. Now she is about to blaze the trail again with The Beautiful God. In this chat with TOPE OLUKOLE, she talks about the driving force behind her music. Excerpts:
Who, really, are you?
My name is Favour Ndukwe, I hail from Umuede Nkpa, Bende Local Government Area of Abia State . I'm a daughter of a retired military officer, Mr. Samuel Ndukwe and Mrs.Uzoma Ndukwe. I attended Amegbuato Community Primary School, Obilaji – Umuede Nkpa and Ikeja High School , Lagos. Currently, I'm arranging to further my education in a London music school.
Why do you want to study music?
Because I have decided to choose music as my career and that is the best way I can connect with God.
How did you get into music arena?
I didn't go for any formal training, I was a choir member when I was eight years old in my church, Methodist at Amigbuato Nkpa. We used to go for choir practice back then and I used to enjoy it. From that time, I fell in love with music and I have always believed that music will be my career. Fortunately, when I was 14 years old, I met Uncle Harry Moscow of Sugar Cane Baby fame, he saw the passion I have for music and decided to show me the rudiments of music and that was how my musical career began.
So you started at the age of fourteen?
Yes. Then, I began to write my songs and some of them were the songs that I had in my first album, The Name Jesus, which was released in 2007.
So how did you get into music professionally?
At a point, I was convinced that I was good enough to record the songs I wrote, I met Rampa at Harry Moscow's studio, and he took up my production in 2007 when we did The Name Jesus.
How old were you when you recorded your first album?
I was 22 years old then, in 2007.
At 22, how did your parents react to your decision to become a musician?
They reacted positively, my paternal and maternal grandmothers were good musicians, so it wasn't a thing of debate, they responded positively to it and that gave me more courage to press forward.
Why did you decide to sing gospel music?
Like I said, music is the easiest way I can connect to God, so through my praises, I know I can dwell in God's presence and I also want to use my music to evangelise; to win souls for God.
How has the journey been so far?
It has been quite challenging, there is the challenge of making a name in the industry, especially when you find yourself in a very competitive world without a record label that would support your project, most times you're left alone to do what a record label should do for you; financing music project is very tasking.
How have you been coping?
The grace of God has been sufficient for me; God has fortified me with the strength that I need to move on because doing music is quite stressful, time consuming and it gulps money. God always brings help my way and that has often convinced me that God has a purpose for me in the music industry.
There is this general believe that there is always sexual harassment on women in the music industry, what has been your experience?
I'm not disputing that because it is a very common thing in the music industry but I feel the way you present yourself goes a long way in how people rate you. Nobody will force you to bed; it is a matter of choice. Most times, the way you dress, your lifestyle and manners attract sexual harassment. I think female musicians should have good mode of dressing as to avoid sexual harassment from the opposite sex. If you dress provocatively, they will provoke you too.
Would you say that you have never been harassed before?
Yes, I have never been harassed sexually before because I don't send wrong signals, I have always been myself and I don't think I will ever be harassed.
Are you married?
No.
So you are single and searching?
No. I'm single but in a relationship.
Would you want to tell us who the lucky man is?
No, I can't disclose his identity. Thank you.
Can you tell us about the album you are working on now?
I'm working on my second album entitled The Beautiful God; it is another flavour of Favour and it is highly inspiring; it comprises 10 tracks: We'll Praise You, Hosanna, Dis Kin God, National Praise, Cruising Over, Miracle God, Kamfe Chineke (I want to worship God), Happy Day, a special reggae wedding song, Forge Ahead and Heavenly Designer. I believe the songs I have are inspired by God Himself, they will motivate people and connect them to God.
On which record label will you be releasing the album?
The Beautiful God will be released on my label, Flavour Music. However, doors are still open to record labels and marketers that might be willing to work on the album.
How soon do you hope to release the album?
Ordinarily, the album could have been out by last December but we deliberately delayed it because of the influx of many albums in the music market but The Beautiful God will be on air before the end of this month, February, and it will also be in Alaba Market by then.
What are your aspirations?
My greatest aspiration is to make a landmark in the world but more than that I pray to be able to touch the lives of the less privileged; the orphans, widows and children by practically supporting them in the areas of their need. Less I forget, my record label, Flavour Music will soon start to scout for talents in the churches and among orphaned children with the hope to groom their God's given talents to become a source of income to them.
Story by nollywoodgists.com