James Ibori botched Judgment postponed- full transcript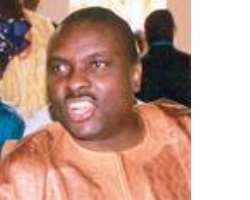 Contrary to expectation of all and sundry, huhuonline.com understands that the botched judgment by Justice Mercel Awokhulehin on James Ibori 170- count charge of corruption and abuse of office was not delivered as scheduled. Official transcripts of the court ruling obtained exclusively by Huhuonline reads; "This matter is slated for ruling today and same is ready.
However, some issues came up between last date and now which are yet to be addressed and must of necessity be resolved.
I will rather air on the side of caution, than do anything that will be regarded as being inimical to compliance with due process.
In the circumstances ruling in this case is hereby adjourned to the 23rd of Novemember 2009".
Recall that last week; Jutice Marcel Awokhulehin was queried by the chief justice of the federation, Justice Kutigi, over irregularities and breach of protocol in his handling of this case. According to a petition authored by CACOL and addressed to the National Judicial Commission, "Justice Awokhulem had caused a letter to be written to a trial court in London.
Excerpt of Cacol petition reads:
"We crave your indulgence by reporting to you the gross misconduct committed by the Judge handling the case of FRN V. James Ibori & Anor. at the Federal High Court, holden at Asaba, Delta State. The details of the gross misconduct of the learned trial judge include the following"
"The trial judge in the Federal High Court, Asaba, Delta State caused a letter to be written to a trial court in London sometimes in October 2009".
"In the said letter the trial court in London was informed that the case at the Federal High Court, Asaba would be disposed off at the next adjourned date on October 26, 2009".
"The trial judge in the Federal Court caused the case to be brought forward by calling lawyers on phone to appear before him on October 12, 2009".
"The application of the Accused challenging the 170-count charge was taken on October 12, 2009. Ruling has been fixed for November 6, 2009".
"In line with the information passed to the London judge we have confirmed that the 170-count charge will be dismissed on November 6, 2009".
"Since the trial in London has been stayed to allow the Nigerian case to be concluded the dismissal of the 170-count charge in Nigeria will lead to the automatic dismissal of the case fixed for November 9, 2009".
Huhuonline.com understands that the federal high court in Asaba commenced sitting early this morning amidst tight security, provided by the State Security Service.
Lately, James Ibori appears to have struck an unholy alliance with the Gadzama led SSS.
|
Article source