Motorists condemn petrol stations fraudulent practices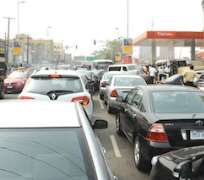 Some motorists in Lagos State on Friday condemned the sharp practices of petrol stations and scarcity of petroleum products in the state since the second quarter of the year.
Motorists told NAN that most petrol stations in the state now sell petrol for N110 or N120 per litre contrary to the official price of N97 per litre.
Bode Akinfenwa, a resident of Ilasamaja, a suburb of Lagos, said that petrol stations in the area sold above the pump price.
"Even the one that sells at N97 per litre is cheating the motorist because by the time you check your gauge, you discover that that they have under dispensed.
"These practices are wrong; if the government wants to increase the fuel price they should come out and tell the people instead of doing it secretly," he said.
Akinfenwa said that only major marketers sold petrol at a regulated price while independent marketers were selling higher.
Yemi Adeoye, a civil servant, said that some petrol stations would display N97 on their metres as a disguise, but forced motorists to pay N110 or N115 per litre.
Adeoye urged the Department of Petroleum Resources (DPR) to live up to their responsibility by sanctioning the erring petrol stations.
"If some of these petrol stations are sealed off, the others will sit up and sell at official price," she said.
Adewumi Ilori, Managing Director of Metib Oil and Gas Ltd., said that the current N97 per litre official pump price of petrol was no longer realistic.
"The cost of lifting and transporting the product to petrol stations if added to the official price of lifting the product will add-up to an amount over N97.
"To sell a litre of petrol at the official N97 will mean selling at a loss," he said.
Ilori said that apart from the NNPC's statutory N84 and the N5 depot charge on a litre of petrol, the marketers paid additional union dues of N3 per litre.
"And if you add the cost of transportation, one will definitely know that to sell at N97 is quite unrealistic," he said
Isiaka Yahaya, the Auditor General, Sahara Unit of National Union of Petroleum and Natural Gas Workers (NUPENG), told NAN that marketers of petroleum products were not really making profits.
He said the problem of loading and transporting of products usually erode the profit margins of marketers.
He also urged the Federal Government to intervene by providing subtle incentives for marketers.
George Osahon, Director of DPR , has said that there was no justification for marketers to sell above the official price.
He said that marketers selling above N97 per litre would be brought to book.
On 4 May, during a presidential media chat, President Goodluck Jonathan said the Federal Government has not increased the pump price.
"I am unaware that petrol is sold above the pump price. The government has no intentions of increasing the price of petrol now but if we must it will not be done through the back door," he said.