House of Representatives approves extension of emergency rule in Borno, Yobe, Adamawa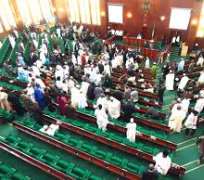 The House of Representatives on Thursday okayed President Goodluck Jonathan's request for the extension of the emergency rule in three northeastern states of Borno, Yobe and Adamawa for another six months.
The request was expected to meet with stiffer opposition from the House of representatives, where President Goodluck Jonathan had hitherto struggled in getting legislative approvals, but the House surprising gave an accelerated approval for the emergency rule after a briefing from security chiefs.
The House gave the approval Thursday after a closed-door meeting with Nigeria's service chiefs.
The chiefs of army, navy, airforce and the defence chief who had earlier briefed Senators on the present security situation, the abduction of over 200 girls in Chibok, Borno State met behind closed doors with the House members.
Meanwhile, the Senate rescheduled its voting on the same subject to Tuesday. Both chambers must agree for the ruling to take effect.