PDP Charges Rivers First Lady Over Plights Of Neglected Families In The State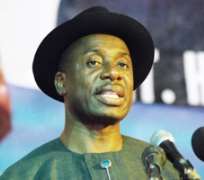 As Rivers State joins Nigerians and the rest of the World to mark this year's International Day of Families, the State Chapter of the Peoples Democratic Party, PDP, calls on the Rivers State Government, particularly the Office of the First Lady and Wife of the Governor, Mrs. Judith Amaechi, to be sensitive to the plights and issues of families, who have been abandoned in the State.
The PDP observes that Mrs. Amaechi has not translated enough the huge resources allocated and available to her Office into the development and care of the families, and the abandoned children in the streets of Port Harcourt and at the local communities, saying rather than showing convincing and genuine concern to the deteriorating conditions of the various families, who hardly feed on daily basis, the First Lady has abandoned the responsibilities of her Office and the Government House Port Harcourt for purposes unknown to Rivers people.
This development, to the PDP, is regrettable as it sparked up anxiety and despondency in the State, which is a result of her failure in providing the needed support and encouragement to the people, particularly women and children, who form the bulk of the suppressed and neglected families in the State.
PDP, in an online press statement issued by Jerry Needam, Special Adviser on Media to the State Chairman, Bro. Felix Obuah, on the occasion of the International Day of Families, notes that the First family in Rivers State is very crucial and is expected to dispense serious fundamental responsibilities to Rivers people, but the continuous absence of the wife of the Governor from State and National programmes and activities calls for great concern and questioning.
The Party appeals to Mrs. Judith Amaechi to, in the spirit of this year's International Day of Families, break her silence and explain to Rivers people where she is currently and the state of affairs of her Office, which apparently has been abandoned and made inactive suddenly.
It is our worry that there have been no explanations on the sudden disappearance and non-participation of the First Lady in public functions with her husband and Governor, Rotimi Amaechi, of late within and outside the State as the case with other First Ladies. It is also of great concern to the Party the increasing presence of destitute, majority of which are those with cases of hunger, homelessness, and health/medical challenges, as well as total lack of care-giving.
The Party therefore, feels concerned about the latest development surrounding the Office of the First Lady, which has been rendered non functional for whatever reason yet to be explained to the people of the State, urging the relevant authorities, particularly the Office of the First Lady to provide useful information on the situation in order to revive the provisional roles expected to be played regarding family care and wellbeing by the First Lady.
Signed:

Jerry Needam
Special Adviser, on Media to
State PDP Chairman, Bro. Felix Obuah
Thursday, May 15, 2014