Mafikizolo, Others Shine At SouthAfrica Music Awards[Pictures]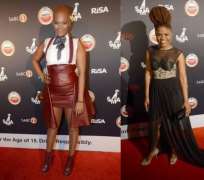 Famous Nigerian singer and EME records first lady Eniola Akinbo, popularly known as Niyola, has impersonated President Goodluck Jonathan to the animal leader in the novel Animal Farm.
The singer made this comparison while expressing her displeasure with the leadership style of President Jonathan especially on his handling of the missing school girls in Chibok, Borno State.
Niyola slams President Jonathan on her twitter hande saying the novel where animals, led by some pigs, chased away the human minders of the farm, took over the helms of affair and turned round to inflict untold hardship on other animals, killing some, maiming others and generally making life difficult for their subjects.While relating this story of the novel to Nigeria, she describes the president as a Zoologist, blaming him for the troubles the country is going through presently. she also prays for God's help in this predicament.
>

Click the link below to go to...
Angela Okorie Goes Clubbing After Theft Scandal In South Africa
I Can Go Unclad--Project Fame 2008 Star, Annette Cookey
Klint Da Drunk's Hilarious Mothers Day Post
My Marriage Is Still Intact, We Only Have Challenges-Jenifer Eliogu
I Just Want To Make Fame And Dump Music--Orezi
Alibaba, Fan Milk, NFC Throw Weight Behind NIJ Student Week
Rita Edochie, Chigozie Atuanaya, Others Sizzle At Ndigbo Lagos Party