Uduaghan: Chibok abduction marks the high point of terrorism in Nigeria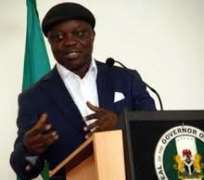 Delta State Governor, Dr. Emmanuel Uduaghan, has said that the abdication of Chibok school girls is the high point of terrorism in the country.
Uduaghan said though there had been various ethnic and religious tensions in the county before now, the abduction of the Chibok girls, "the Chibok abduction became the high point of concern."
Speaking on Channels Television's breakfast programme, Sunrise Daily live from Abuja, Thursday, Dr. Uduaghan urged Nigerians to stand solidly behind President Goodluck Jonathan to give him all the support that he needs in dealing with the issues of terrorism.
He also expressed his delight on the support from international community such as the US, France, UK, amongst others in the fight against terrorism and finding the abducted Chibok girls. Speaking on curtailing fights between cattle herdsmen and farmers in Delta state, Uduaghan said he has been able to mobilise the traditional rulers to meet with their communities in order to stop these attacks on farmers, stressing the need for communities and village heads to hold regular meetings and look into issues affecting their communities. He also stressed the need for state police, adding that the involvement of state police and the "locals" will reduce certain attacks; he said that a committee has been set up headed by the Commissioner of Police of the state and other security agencies to bring the perpetrators to book. Speaking on the recent committee set up by President Goodluck Jonathan in search of the Chibok girls, Dr. Uduaghan said "a lot is being done by the President Goodluck Jonathan and the committee that was set up two days ago is working on it" adding that terrorism is an issue affecting the country and has made Nigerians lose confidence in the government. He advised the government especially the Borno State government to win the trust of the "locals" to gain adequate information from them. 36.