Somebody Should Please Call Tiwa Savage To Order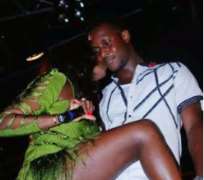 No doubt, Tiwa Savage is a good vocalist, but with her recent behaviours, I think something might be wrong somewhere. One cannot easily forget the late Whitney Houston, who started as a 'good babe' in church, but later had to struggle with some stuffs, which almost crumbled her music career.
Though many said her husband, Bobby Brown had much negative influence on her, but I bet to disagree. I wish not to delve into that because the dead needs to continue to rest in peace.
In Africa, there are expected behaviours from a married woman. When you are married as a woman, you are no more expected to do things you used to do as a spinster. Before her marriage some days ago, Tiwa Savage was pictured during a performance with her 'underground' in display for people to feast on.
At a recent show, Tiwa Savage again gave people something to feast on and it keeps me wondering what exactly is wrong with this Mavin Records artiste. But wait a minute; does this woman know she is now married? Why is she showing us what should be exclusive to her husband, Tee Billz?
I wonder what her in-laws would be saying by the time they see 'their wife' showing the world what her 'under' is made of. Come to think of it, what I am seeing isn't looking like a clean thing. So, why display it. Gosh. I believe somebody should call this woman to order before it gets too late. A word they say is enough for the wise.