Over 200 Girls Are Missing In Nigeria - So Why Doesn't Anybody Care Enough...!
Calling For Immediate Action From The Diaspora!!!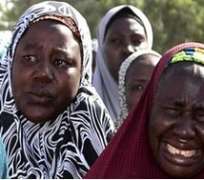 DEAR PARENTS & GRANDPARENTS, UNCLES AND AUNTIES:
I know that you are aware that over 200 girls who stayed in school doing all the right things that obedient girls of their age were suppose to be doing, were abducted from their school in Northern Nigeria for over two weeks now.
What are we doing to call the world's attention to their plights? If your daughter was among them, I bet that you would not just be requesting signatures, but organizing rallies and inviting RADIO, TELEVISION, MAGAZINES and other media houses to carry the news worldwide.
I bet you would be looking for groups of people to camp out in front of the UNITED NATIONS AND THE NIGERIAN EMBASSIES EVERYWHERE, WAILING AND DEMANDING THAT UNLESS THOSE KIDNAPPED OVER 200 SCHOOL GIRLS ARE RETURNED SAFELY TO THEIR PARENTS YOU WOULD NOT LEAVE.
Why are we all so complacent in the diaspora about the plights of these innocent girls???
Imagine if your 15 year old girl was among them!
Imagine if one of them was your niece!!
Imagine if one of them was your grand daughter!!!
Just close your eyes and imagine that for a split second!!! They are afterall school kids like yours.
As each day passes the hope of finding these girls 'intact' or even alive diminishes...If we don't step up the plate and help...who would???
If America could tackle the Talibans with all their fundamentalism, we need them to assist in rescuing these kids.
If the Israeli intelligence agency Mossad brought home theirs from Entebbe Airport in 1976 despite Idi Amin's bravado, they can help us too.
Whatever, Whoever, Wherever, However... LET US CALL THE WORLD ATTENTION TO THE PLIGHT OF THESE INNOCENT YOUNG SCHOOL GIRLS!!! Bring these girls home NOW!!!
CALLING FOR IMMEDIATE ACTION FROM THE DIASPORA!!!