Siverbird Cinemas Management Returns Missing Belongings To Owners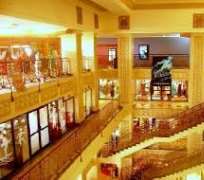 Who says Nigerians cannot be trusted? Hmmm, well praises needs to be given to the management and staffs of Siverbird Cinemas for a job well done in maintaining trustworthiness in business.
Recently, Nollywoodgists.com went for a premiere at the Silverbird Cinemas, and was amazed at the way the staffs were attending to guest and took their time to answer questions right from the securities to the main staffs.
The shocking aspect of this is the fact that if you misplace anything within the Cinemas and you come looking for it, you are sure of retrieving it. This is not just a mere assumption, but a fact that occurred recently after a movie premiere of Emem Isong's, 'Knocking on Heaven's Doors,' where some guest forgot some of their properties at the Cinemas, and were able to get them back.
The questions could be, are these staffs not interested in money? The point is, they are satisfied with whatever they earn for a living. This is because wallet filled with money and ATM cards were also found, even a press Kit was found and kept intact for the owners.
We can only say that the Silverbird group did not just awaken the spirit of Cinema in Nigeria, but have been able to show true patriotism and trustworthiness to its clients.