Re: PDP Appoints Fani-Kayode Director Of Media & Publicity In President Goodluck Jonathan's 2015 Campaign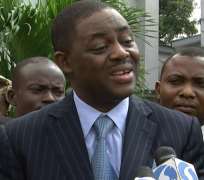 I read with utmost disdain tissues of lies being peddled by some paid hatchet men with the intention to misinform the general public and to surreptitiously malign the image of Chief Femi Fani-Kayode, simply because he honoured President Goodluck Jonathan's call by visiting the number 1 citizen at the State House Presidential Villa, Aso Rock few days ago, precisely April 9, 2014.

This hoax making rounds on the social media platforms is out-rightly an euphemism for politics with bitterness; that Chief Femi Fani-Kayode has been appointed Director of Media and Publicity in President Goodluck Jonathan's 2015 Campaign is not only untrue but also in bad taste. Politics shouldn't be played this way, and people must learn to be decorous and responsible and more importantly eschew themselves from spreading falsehoods or rumours as the case may be. For the records, the former aviation minister has made it unequivocally clear that he is still within folk of APC so why this hullabaloo and sheer shenanigans? However, I don't think the Nigerian constitution has criminalized political association.
Indeed the social media platforms had been most abused by Nigerians, I bet you no one can score any political point out of this mischief. This age of digital media, coupled with the current unfortunate security challenges facing Nigeria, has given rise to unqualified authors and social commentators. Only with a mobile device or personal computer supported with internet facility, people now own 'newsrooms'. We all can spread news, pictures, stories, comments and reactions using our blogs and social media platforms. The downside is that more often, misguided and unethical practices replace the informed code of conduct that guides the noble media profession. It is just too obvious that some people cannot handle with maturity, the freedom and limitless platform presented by digital media of the 21st century. The unity, success, and progress of Nigeria cannot be compromised irrespective of side of the divide. God bless Nigeria.
Meanwhile, Chief Femi Fani-Kayode had earlier refuted this claim on his Facebook timeline, putting the records straight so that the public would be properly guided. He said: ''The rumour that I have been appointed as Director Of Media and Publicity in President Goodluck Jonathan's 2015 Campaign team is not true. Once again I wish to draw it to the attention of members of the public that I still remain in the APC.''