Nigerian Painting Helps Build Stronger Relationship With Canada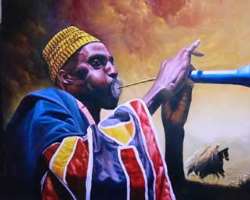 Nigerian-born, Canadian artist, Kosisochukwu Nnebe, has literally lit up the Montreal art scene with her painting entitled "M(other)nity" which seeks to re-define the complexity of the modern black woman as opposed to the prevalent simplistic portrayal of black women in the mainstream media.
Commenting on the various art works on display, Honourable Michaelle Jean, who was the immediate past Governor General of Canada, commended the message behind the painting, describing Kosi as "an intelligent, gifted and dynamic artist."
Furthermore, Nigeria's High Commissioner to Canada, Chief Ojo Maduekwe, commending the Nigerian art for her love for the country, urged Kosi to become a rallying point for other similarly gifted young Nigerians in Canada so that they would project a more positive image of the country through their creative works.
According to Kosisochukwu, she described her painting as "a visual counter argument against the current narratives in the North American media, which portrays black women as the single-dimensional, hyper sexualized figures depicted in rap music videos."
She further argued through her three-part exhibition, which had video and written components, "that black women are complex multi-dimensional beings who comprised of mothers, scientists, industry leaders, students, artists and musicians."
The exhibition which was held at the famous Montreal Museum of Fine Arts was part of the exhibition of the works of eight African-Canadian artists under the auspices of the Michaelle Jean Foundation, to mark the Black History Month celebrations in Canada recently. It was the first ever group exhibition by black Canadian artists at the Museum, and the first by a Nigerian.
© 2014 Nollywoodgists.com
Click the link below to go to...
Top 5 Ghanaian Celebrities Accused Of Bleaching Their Skin
Yvonne Okoro Confirms That Yvonne Nelson Bleaches
Alleged Robbery: Nollywood Actress, Yetunde Akilapa Discharged And Acquitted
How My Friends Set Me Up -Recently Released Actress, Yetunde Akilapa Reveals
Nollywood Actress,Yetunde Akilapa, Sent To Kirikiri prison in Apapa, Lagos
More On YETUNDE AKILAPA