1 Dies During Movie Shoot In Kwara (Exclusive Pictures)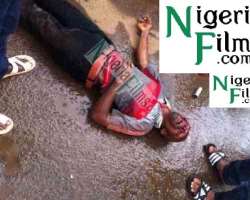 Pandemonium broke out on Monday, April 7, 2014, in Ilorin, Kwara State when a film production company refused to pay land charges, popularly called 'owo ile', to some suspected hoodlums in the area of the movie shoot.
The ensuing melee resulted into the death of one of the suspected thugs, who allegedly used dangerous weapons to destroy properties belonging to the movie production outfit.
According to reports gathered by Nollywoodgists.com, the ugly incident, which took place around the roundabout at Tipper Garage in Tanke area of the state capital, left many others injured. It was said that it took the prompt intervention of the police in the area to quell the trouble.
A resident of the area, who narrated the incident to Nollywoodgists.com over the phone on Wednesday, said the film crew, including a popular actor (name withheld), had gone to the area to shoot a scene from their new flick, which talks about cancer, but that some youths in the area insisted on collecting the land charges from the crew before the scene could be shot.
However, the company reportedly refused to part away with their money, which angered the suspected hoodlums and then allegedly started to damage the company's properties. It was further gathered that the police came to the scene and it then resulted into a clash between the police and the alleged street urchins.
According to reports, the deceased died after he was hit by a bullet from the police.
The state commissioner, Ambrose Aisabo, who confirmed the incident, reportedly disclosed that his men had no choice than to release the shot when the atmosphere became nervous.