Nigerian Idol Judge, Nneka goes emotional after contestant performance !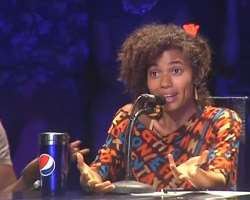 With one-group performances down on Nigerian Idol, and the fight for the next three contestants who will make it to the Top 12 will hit fever pitch.
But before that , something happened recently , as Nigerian Idol female judge, Nneka Egbuna got lost in the moment after the performance of one of the contestants in the 2nd group of Top 30 on Nigerian Idol.
Xolani, a contestant from Calabar presented the petite damsel with a red rose after going on his knees, during his performance of 'Lady in Red' by Chris de Burgh.
After recovering from the moment Nneka said, "Awesome charisma, you were very in tune with the lyrics and you have a charming look and personality, but I just need to you to be careful, so you don't lose yourself in the show."