Nollywood Actor, Emeka Enyiocha Denies Closing Bar [Exclusive Pictures]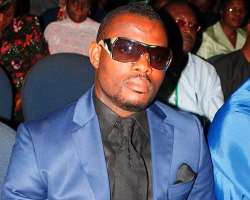 Nollywood actor, Emeka Enyiocha, in chat with Nollywoodgists.com on Tuesday, says he does not have issues with anybody, not even his younger brother as widely claimed.
The actor said that he has been very busy moving from one location to the other shooting movies and as such, decided to get someone to handle his business for him while he was away.
"Whatever people like, they can say. All I know is that my God will judge them. How can one own a business which he sweats to establish for about four years and suddenly allows it to go down the drain?" the talented actor asked.
Emeka said his 'D'Stage Bar And Restaurant', located in Surulere, Lagos has not been closed as widely speculated.
"People will not kill me. Which bar was closed down? You can go and check for yourself. Abeg, people can write and say whatever they like, it's my hard earn money I invested in my business and I must get dividend for my money."
"Several of my employees have robbed me of my money because I have not been around to monitor them with the expectation that they will deliver. But I never knew that they are plotting my down fall," he added.
When Nollywoodgists.com beam its search light on the bar, every things were intact. Even the generator set was on to supply power to the guest who lodged in.
Furthermore, a close source to the actor also attested to the fact that finance in the business was mismanaged, but debunked the rumour that the bar was ever closed down or ever used for ungodly activities as speculated.
Below are exclusive pictures taken from the bar when Nollywoodgists.com visited on Tuesday.