M.I , Waje headlines 2014 FIFA campaign anthem !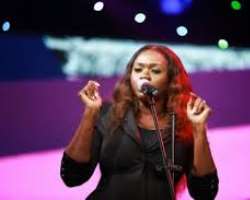 Following a recent unveiling of 'The 2014 FIFA World Cup anthem,' which took place on Thursday, 20th March, 2014, at Ikoyi , Lagos , Coca-cola company has announced two Nigerian musical artistes which includes M.I and Waje to perform the world cup anthem theme song titled 'The World is Ours ' a theme song written by David Correy, a Brazilian born artiste, featuring a Brazilian percussion group Monobloco. According to Mrs Bolajoko Bayo-Ajayi , 'We have also recorded a Nigerian version of the song featuring 2 Nigerian artists, MI and Waje' She said .
Speaking further at the event, Mrs Bolajoko disclosed the reason behind their choice of M.I and waje among other top Nigerian artistes, 'M I and waje were picked because we believe they are both one of the biggest and popular artistes in Nigeria. And so we are using them in other to easily relate with Nigerians especially their fans 'she said.
Finally, the campaign that plays up the various fan archetypes is presented in a humorous way, such that everyone can identify with their own unique archetype and can identify one for friends, as they enjoy the spirit and emotions of football and the FIFA World Cup.