Jonathan Inaugurates National Confab Amid Tight Security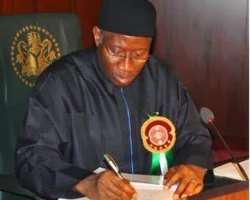 For sometimes now, there have been debates over the issue of the national conference set up by President Goodluck Jonathan.
While some Nigerians have applauded the move by the President, others have kicked against it, claiming the conference would be handled selfishly for political gains and for other reasons. However, some have remained indifferent on the matter.
Apparently, when the list of delegates for the national conference was released, some of them withdrew from it.
However, amidst all doubts about the success and importance of a national confab in the country, the inauguration of national conference in Nigeria took place today, Monday, March 17, 2014 in Abuja. The conference was inaugurated by the President.
A total of accredited 492 delegates and 6 conference officials are billed for the event, which lasts for three months.
Security operatives have been placed at the venue as those not accredited are not allowed in.
The real discussions, according to what we gathered, commences from tomorrow.
Expectations are high among Nigerians as regards the outcome of the conference.