This is Brig. Gen. Ike Nwachukwu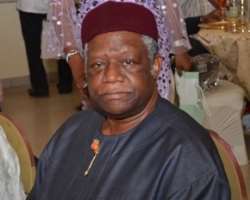 I am writing this as personal reflection on the life of this man, Brig. Gen. Ike Nwachukwu, as we come to know him. Who is he before and during the war? He is Lt Omar Fanda of the Nigerian army, born and raised in the North, and currently married to a Hausa woman. He had an Igbo father and Hausa mother.
During the civil war Omar Fanda was a lieutenant at the break of Nzeogwu's coup. He was moved to army head quarters provosts, and later moved to join Lt Col. Muritala Muhamed's division after Banjo invasion. There he became a company commander. He commanded company battalion all through Ore road and confrontations to the banks of Niger to Onisha. Not only that he fought against his kin, Omar Fanda commanded the battalion that massacred 3000 civilians who came out to sing one Nigeria. He in company with Muritala Muhamed massacred civilians during the war time. This makes him a war criminal.
Under Buhari and Idiagbo's government, he was sent as a military governor of old Imo state. It is imperative that we understand his legacies as a governor. This man we came to know as Brig. Gen. Ike Nwachukwu came solely to stop progress in Imo state as the military junta were surprised at the progress Ndi Igbo under 4 years made in Anambara and Imo states then.
It was Ike Nwachukwu who stopped rural electrification projects in Imo state. It was him that stopped and changed the original plan of Imo state airport as international airport. It was Ike Nwachukwu who initiated the disaster we experience in Aba today. Under de Sam Onunaka Mbakwe, Ndiegoro drainage project was in top gear to control floading in Aba. It was a gigantic project. Ike Nwachukwu stopped it and till date that project was never re visited. Aba flooding today would have been taken care of if he had completed that project.
Mbakwe built industries in all the local governments in the state to alleviate unemployment problems then. Those industries were sold under privatization edit, and Ike Nwachukwu bought most of them. Avutu farm projected to penetrate international market was producing eggs and chicken that was feeding the entire old Imo state. Ike Nwachukwu stopped it. Today that farm site is a jungle. The zenith paint industry located in Mbaise was bought by Ike Nwachukwu.
Under Mbakwe, there was rural pipe born water designed to supply clean water to all the autonomous communities in the state. Under this project, my village received clean water for the first time and they stopped going to fetch water 90miles from the stream. The company responsible for this is Hydro tech. When Ike Nwachukwu became the governor he did not only stop the project he also removed laid pipes and sold the equipments.
He also underdeveloped owerri urban and destroyed the structures and original plans for owerri development hence making it possible for looters to feast on our misery. Remember Oslo? Have you wondered what happened to that company that was responsible for keeping Imo state urban centers clean? It was stopped and the trucks were sold to foreign companies. How about Amaraku power station? Ike Nwachukwu stopped its operation and privatized it which Onyearugbulem completed by selling it to another foreign company.
The Owerri international market under construction before the coup of Buhari, located at owerri Egbu road near mechanic village, adjacent to Trans Egbu estate was also stopped by Ike Nwachukwu.
Now that facts are emerging on the war time criminals, it would be fair for him to come open and clean and apologize to Ndi Igbo and be our witness against the other criminals. He looks like us but in fact is not one of us. Who would tell him that we did not forget his sins against us? he should be humble enough to come and apologize.
Ndi Igbo should start asking this man questions. He is getting old and we cannot allow him to die without apologizing to us. He has our blood in his hands. He killed our children and took part in the rape of our daughters. If he did not apologize he would not go to his grave
without tears in his eyes.
Disclaimer:

"The views/contents expressed in this article are the sole responsibility of the author(s) and do not necessarily reflect those of The Nigerian Voice. The Nigerian Voice will not be responsible or liable for any inaccurate or incorrect statements contained in this article."