Israel intercepts Gaza bound Iran weapons ship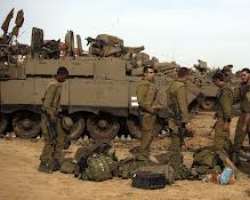 Israel has intercepted a ship carrying an Iranian weapons shipment to Gaza, Israeli defence officials say.
The Panamanian-flagged vessel was boarded by Israeli special naval forces in the Red Sea on Wednesday, the Israeli Defence Forces (IDF) said.
Israel says it found Syrian-made rockets on board, and that it was now taking the ship back to Israeli shores.
Hamas denied any involvement and said that story was being used by Israel to 'justify the blockade' on Gaza.
There was clear evidence that Iran was behind the attempt to smuggle the weapons, the IDF said.
Israel tightly controls its border with Gaza, restricting what is allowed in for what it says are reasons crucial to its security. It also maintains a naval blockade. Egypt blockades Gaza's southern border.
Critics say the blockade is tantamount to collective punishment.
IDF officials said the ship was carrying dozens of rockets including the Syrian-made M-302.
IDF spokesman Lt Col Peter Lerner said the 17-member crew of the ship appeared to be unaware of their cargo and were not suspects.
He said they would be taken back to Israel for questioning.
The ship was boarded in international waters between Sudan and Eritrea, Col Lerner said.
Israel has accused Iran of arming groups such as Hamas in the Gaza Strip and Hezbollah in Lebanon.
More than 60 rockets fired from the Gaza Strip have hit Israel since the start of last year, Israel says.
Hamas denies that it has fired any rockets since a 2012 ceasefire agreement with Israel, with other militant groups in the Gaza Strip claiming responsibility.
Israel says it hold Hamas responsible for any attacks from Gaza.
Israel has in turn repeatedly launched air strikes on the Gaza Strip, causing several deaths of militants and civilians. BBC