Teasy Mobile Money Wins Kalahari Award At The 4th Mobile Money Africa Expo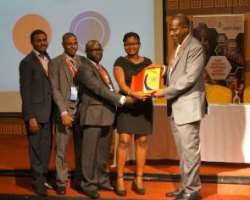 Teasy International Company Limited (Teasy Mobile Money) has won the Kalahari 'Best Mobile Money Startup in Nigeria' Award as well as a special commendation for Excellence in the industry.
The award was announced and presented at the 4th Mobile Money Africa Expo held on the 13th and 14th February, 2014 at the Oriental Hotel in Lagos.
The Kalahari Awards committee comprising of industry experts and media practitioners shortlisted organizations that demonstrated "Innovation, scalability, impact, robustness of service amongst the recently licensed non-Bank mobile money providers in Nigeria."
Speaking, Teasy International Company Limited CEO, Musa Ali Baba, said "We are delighted that Teasy's drive in changing the financial service game has been recognized with this leading industry award.
"We hope our success will draw attention to the importance of the cashless policy and financial inclusion drive and its critical role in economic development, empowerment and effective financial policies."
Teasy is a mobile payment service company that provides a wide range of financial services through the use of a mobile phone.
2014-02-22 154854