Biola Ige Denies Bleaching Her Skin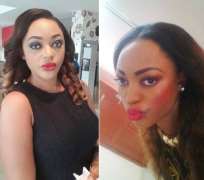 Nollywood actress Biola Ige was flown to India to be treated of a thyroid related condition and she has been able to tell her near death experience and the death of her mother , Mrs. Mary Ige ,months after her return from India, however, she has a change in the colour of her skin which has raised questions that she is bleaching
She denied bleaching her skin : "I am naturally fair. I have never been dark. I am just taking care of my skin. After the radiation, my skin came back to normal. I am not using any bleaching cream. I am using Vitamin E oil and sweet almond oil, I am not bleaching."
When asked if she was in a relationship: "A lot of things have happened, anyway that was in the past. I am not dating now. I have grown over the years and realized that most men want to just get in-between your legs. The basic things of life are not things money can buy. I have chosen to be on my own and remain focused. If the right man comes and he is truly ready to date and not just to have fun, I will have a rethink.
She has a criteria for her idea man: "Is there even an ideal man really? If I say this person is my ideal man and the person does not like you, what will you do? He must be intelligent and God fearing.
>

© 2014 Nollywoodgists.com
Click the link below to go to...
INI EDO'S SEXY CURVES, BUM CAUSE STIRS AT AN EVENT
I am not married, marriage certificate is fake – John Dumelo
Stop Behaving Like Jezebel-Redeemed Pastor Slams Mama G Publicly
Ini Edo, Please Mind Your Spelling
Boredom Forces Princess To Marry In May--Insider Alleges
I Still Love Jim Iyke--Steph Nora Okere
HILARIOUS