Aviation ministry postpones Oduah's handover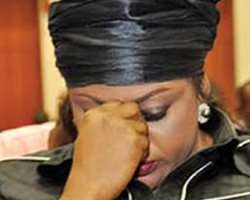 The Federal Ministry of Aviation has kept on postponing the handing over ceremony of its former minister, Ms. Stella Oduah, to the incumbent supervisory minister, Dr. Samuel Ortom.
Reporters were last Friday invited by the ministry to cover the handing over ceremony which was scheduled to hold at noon. But the ceremony was rescheduled till Friday evening.
In the evening, information was passed to reporters that the handing over programme had been postponed.
On Monday morning, reporters were again invited to cover the handing over ceremony which was to hold at 3pm. But when our correspondent got to the ministry, the security official on duty said the programme had been rescheduled again.
This time the ministry moved it to 4.30pm. Our correspondent had to hang around the ministry till 4.30pm.
But on getting to the ministry again at the stipulated time, ministry officials told the few journalists present at the ministry that the handing over ceremony had been rescheduled. This time, no date was given.
Efforts to get workers to officially give reason for the repeated postponement were not successful as employees and directors of the ministry kept mum.
Meanwhile, our correspondent observed that most of the offices at the ministry were not open to activities.
The only security officer on duty at the time refused to speak on why there was virtual absence of workers at the ministry.
He however told our correspondent that some ministry officials were not pleased with the sacking of the former minister.
Asked why the place was virtually deserted, the officer said, 'the former minister is the one that gave this place this beautiful facelift and some of the workers here like her. But now she has resigned. If you are working here will you be happy?'
President Goodluck Jonathan last Wednesday sacked Oduah and three other ministers from the Federal Executive Council.
The other affected persons are the ministers of Niger Delta Affairs, Mr. Godsday Orubebe; Police Affairs, Navy-Capt. Caleb Olubolade (retd.); and the Minister of State for Finance, Dr. Yerima Ngama.
Oduah had been in the eye of the storm since last year over the purchase of two bulletproof BMW cars for N255m on her behalf by a parastatal under the ministry, the Nigerian Civil Aviation Authority.
Apart from the amount spent on the cars, which was found to be grossly above the market value, Nigerians also queried the propriety of the purchase by a parastatal that was finding it difficult to train key personnel responsible for aviation safety.
The House of Representatives, based on the report of a committee it set up to investigate the matter, had asked Jonathan to review Oduah's appointment.
Following public outcry that greeted the news of the car purchase, Jonathan had set up a three-man administrative panel headed by a former Head of Service of the Federation, Alhaji Isa Bello, to investigate the matter. Punch