Nollywood Actor, Ken Erics Warns Against Online Scam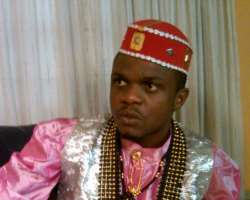 Against falling prey for persistent online scam, Nollywood actor Ken Erics has warned his fans and admirers to be on high alert from any activity that would involve a faceless deal posing his name online, adding that it amounts to impersonation and astroturfing.

In a statement issued out, the actor's publicist explained that the trick has filled several social networking sites, stating that those involved in such scams use advertisements and online networking accounts to defraud people.

"These faceless and unscrupulous individuals purport to be Ken Erics, while he is not. They defraud people claiming to be working under his Film Academy, while for now he owns not even a production company. Why must Ken ask for money from his fans and admirers? He has a management that transacts a face-to-face business for him, and not through the internet" he said.

Therefore, he advised that people should be wary of such antics, especially through the internet that poses his activity photos and name, asking for airtime or registration fees to act under his film academy which never exists.