DANGEROUS TENDENCIES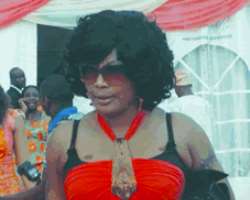 Dangerous tendencies
By 'Justice' Bolatito Adebayo
Prosecuting counsel:
Dele Onatade
Photo arrangement : Ekiye Daniel
Sunday, March 14, 2010

Garbage
Big sister, you so much violated our sensibilities with this look. If you can't pull the look, why didn't you get something else to wear? We can't even understand if it is your bra you are wearing conveniently or a blouse. You have just flouted Section 404 of the alter neck constitution and have to pay a fine of N500,000
Slowly please
We detailed a panel to look into your situation before you were brought in for prosecution. Its decision was that you applied the wrong foundation and that the colour was a glaring contrast compared to you neck. Mummy, we think you should slow down, so you would appear less like something out of a horror movie. You are to pay a fine of N700, 000.


.


Funny lips
Ha! Mummy you see what prolonged mixing of Tura soap, Mercury cream and Ghana soap together can cause. This is just a chemical reaction that you invested so much of your resources on and you are giving us a premiere of another scary movie. When you were warned against using those 'nuclear weapons' on your skin you refused to budge. Well, for your punishment, you have been banned from using those killer agents and you should see a renowned dermatologist quickly.


Mama nothing spoil
Mummy, we were so surprised when you were nabbed for reckless display of cleavage in public. My jury thinks you should have left this line of business for younger girls. You have been fined N800,000.


Grand ma!
Grraannmmaa! if you were in your thirties or late twenties, we would have looked the other way or called you stunning. We believe you should just dress your age and then age gracefully. Cover up those wrinkles and flabbiness with style. Because of the pile of pancake on your face, we hereby ban all those who sell pancake from selling to you. You have been fined one million naira, which should be deposited at the old peoples' home.


Dangerous weapons
What fashion statement are you making with those two mounds out like that? Well, you have been charged for possessing and displaying dangerous weapons in public. We hereby hand you over to the Chief of Army Staff, who will deal with you accordingly..