Queen Ure- Soul E Belongs To My Past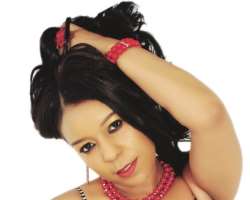 Queen Ure is still single after parting ways with her husband, Soul E, she is now ready to mingle with any man who is a real man and have qualities she is looking for, with 2014 on the positive side for her, she doesn't want to remember Soul E but to concentrate on her music and look for another match made in heaven for her.
When asked if she is seeing anyone "No there's nobody there right now," retorts Ure, responding to questions on her love life, "at the moment I really don't have a boyfriend but I'd like to have one," she croons sexily as her features dissolve in a pleasant smile. So what are those qualities she's looking out for? "One is that he has to be an honest person; most guys these days play games. Maybe ladies play games too but I don't.
She concluded: "I guess I'm just taking my time. I'd want to get involved with someone who's straight forward; that's my number one requirement. My man has to be straight forward and honest; it's not like I'm keeping to myself or being selective, it's just that I need to feel him, he has to be real; I'm not feeling the guys around me right now." What's her relationship with her ex, Soul E? Are they still talking? Are they friends? "No," Ure retorts shaking her head to drive home her point as another smile emphasizes her dimples, "Soul E belongs to my past. For heaven's sake, this is 2014!"