APC will trounce PDP in 2015 elections, says Baraje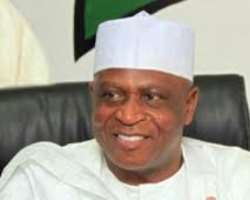 Former acting National Chairman of the Peoples Democratic Party, Alhaji Kawu Baraje has high hopes for his new party, All Progressives Congress (APC). He fancies that his new- found political party will trounce the ruling PDP in the 2015 elections.
Baraje in an interview with newsmen in Ilorin, Kwara State capital Wednesday, said that APC enjoys massive support from Nigerians.
The APC chieftain acted as the chairman of the rebel PDP group that walked out of it's convention last August before it meshed into the APC.
APC with no clear ideological differences with the PDP represents opposition,s desperate bid to upstage PDP.
He said, 'APC is widely accepted by Nigerians and will defeat PDP from wards to presidential elections'.
Baraje also voiced support for the APC's lawmakers thatacted on the party's directive to forestall the passage of 2014 approriation bill. He commended the APC legislators in the House of Representatives for not passing the 2014 budget saying they were only insisting on adherence to the law.
He accused  the PDP-led federal government accusing it of promoting impunity in many parts of the country.