Defection: Mark Can't Stop Us - 52 Senators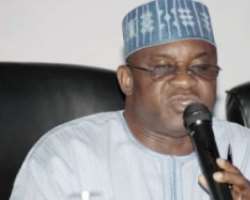 Fifty-two senators who are set to defect to the All Progressives Congress (APC) have insisted that Senate president David Mark cannot stop any of them from doing so.
In an earlier joint letter, the senators had noted with concern the threats by private and public officials to declare vacant their seats vacant if they dumped the People's Democratic Party for other political parties.
It was learnt that the Senate president, not willing to be dragged into the matter, was indifferent to the pressure from the PDP to dance to declare their seats vacant for cross-carpeting to the APC.
Senate sources last night admitted that that although the move to declare the seats of the aggrieved PDP lawmakers vacant had been in the offing, Mark had distanced himself from it.
But the affected senators, who argued that defection was a norm in Nigerian political history, asked Mark not to 'support any plan to cause any setback to the current political dispensation in Nigeria.'
Among the senators who signed the letter written to Mark were Chris Ngige, George Akume, Abubakar Bukola Saraki, Magnus Abe, Wilson Ake, Mohammed Danjuma Goje and Alhassan Aisha Jummai.
Others were Mohammed Ali Ndume, Ahmed Maccido, Kabidu Gaya, Prof. Olusola Adeyeye, Oluremi Tinubu and Solomon Ewuga.
The senators described the threats to declare vacant their seats vacant as 'mischievous and capable of undermining the independence of the legislature and taking away the mandate given to them as the representatives of the Nigerian people.'
The lawmakers reminded Mark of the suit pending at the Federal High Court, Abuja on the matter, saying that in the tradition of the National Assembly the matter should not be a subject of discussion or debate on the floor of the Senate.
They said: 'We hereby note that this is not the first experience in the Senate where some senators have moved to political parties of their choice as a result of one reason or the other, whereas, such has not caused any political tension or intimidation.  It is our resolve that the Senate should maintain and sustain this principle and precedence.
'It is our resolve that we do not support any attempt that the seat of any senator proposing to defect to another political party be declared vacant except by recall process from their constituents or by pronouncement of a court of competent and final jurisdiction, rather than politics of intimidation, harassment and comment that could jeopardise the peaceful co-existence of unity of Nigeria.
'Finally, we enjoin the leadership of the National Assembly to continue to accommodate all legislators irrespective of their views, believing that our country can only make progress when we tolerate, respect one another and the rule of law.'