49yr-old Mrs Abah Welcomes Baby After 23yrs of Marriage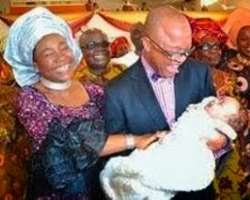 Former Minister of State for Interior, Humphrey Abah and his wife, Mrs Mary Abah, who he marred 23 years ago welcomed a baby recently. 49 year old Mary, who is a lawyer and banker, shared her experience and her challenges of being married for so long without a child and the support she got from her husband.
"When they told me I was pregnant, I screamed and cried in the hospital and everyone present rose up and gave thanks to the Lord. Since then, the story has been one testimony after another. But that was not all, when I was to put to bed, I was told there might be complications as a result of all the operations I had done. They said that might make it a very difficult and dangerous birth.
Yet, the Lord saw me through. It feels great and I thank the Lord for wiping away my tears and making me a mother at last. It is a dream I have had since I married at the age of 27. Now, I am more than 49 years old, it has taken a long time but the Lord has done it for me.
I have shed a lot of tears. Our story is like that of Abraham and Sarah. I am already in menopause but I told God that if He did it for Sarah and gave her womb the strength to conceive, then He would give my womb the same strength. Even when doctors in London told me in 2011 that nothing could be done, I knew that it is only Him (the Lord) that could help me. I focused on the Lord and He did it for me. Very encouraging.
© 2014 Nollywoodgists.com
Click the link below to go to...
Tiwa Savage Tweets About Failed Relationship
I Am Starting My Year With A Twenty One Day Fast; Stella Damascus New Year Resolution(must read)
2Face Closes 2013 Nigerian Capital Market (Pictures)
Toyin Lawani Welcomes A New Baby Boy As The Year Begins Today!
Uti Nwachukwu Donates To The Less Privilege