APC suspends deputy national chairman over anti-party activities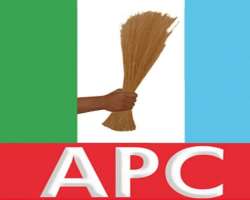 The hammer of the All Progressives Congress (APC) has fallen on its National Executive Council member.
Senator Anniee Okonkwo, who is deputy national chairman of the for South, has been suspended over what it described as anti-party activities during the Anambra 2013 governorship election.
The party's NEC sat today in Abuja where it set up a panel to investigate the former Anambra state lawmaker and give its report in three weeks
There are allegations that Senator Okonkwo worked with the opposition during the elections and has been suspended from his duties as the party's Deputy National Chairman for South.
Sen Kabiru Gaya is expected to chair the investigation committee and Dr Muiz Banire is to act as the Secretary.
The probe sitting is expected to start from Monday 27th of January 2014.
The Anambra State chapter of the party had on Monday, January 6th, 2014, suspended Mr. Okonkwo on grounds of anti-party activities.
Also suspended was one Chuks J. Chinwuba, who according to the party, had been parading himself as acting chairman of the party in the state.
The suspension was contained in the resolution passed by the Interim Executive Committee of APC in Anambra, which was also inaugurated on the same day (Monday, January 6th, 2014) and led by the chairman, Amaechi Obidike.
'The Anambra State Interim Committee has examined the roles played by our party members in the said election, particularly Senator Annie Okonkwo, the Deputy National Chairman, South, and one Mr. C.J Chinwuba who parades himself as the 'State Chairman' of the party and have found their conduct to be reprehensible and embarrassing which have put the party in contempt, public ridicule and disrepute.
'These anti party activities have continued with their unguarded and unauthorized utterances about the proposed Anambra State Local Government Council election, and sowing seeds of discord and hatred among party members.
'In view of the above, therefore, the Anambra State Interim Committee of APC hereby suspends the duo of Senator Annie Okonkwo and Mr. C.J Chinwuba forthwith