Shot Jonathan's photographer discharged from hospital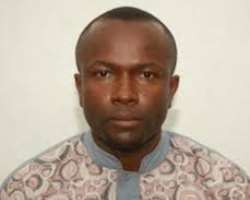 President Goodluck Jonathan's acting official photographer, Callistus Ewelike, who was shot penultimate Monday by a yet-to-be identified gunman in Abuja, has been discharged from the hospital.
Ewelike was discharged from the National Hospital, Abuja on yesterday.
He had undergone a successful surgery last week Friday to remove a bullet lodged at a spot close to his shoulder.
According to Ewelike, "The doctor came to dress me this morning (Tuesday) and observed that the scar was healing faster than they expected. They then decided to discharge me," he said.
The injured photographer thanked God for his faithfulness and making him to survive the incident.
Ewelike works as a photojournalist with the News Agency of Nigeria, was shot at a close range in front of his house in Nyanya in the outskirts of the Federal Capital Territory between 10pm and 11pm last Monday.
It could be recalled that Ewelike was returning to his house after the day's work when the incident happened.
Ewelike was rushed by his neighbours to a nearby private clinic from where he was referred to the National Hospital, Abuja.