Jonathan submits ministerial list to Senate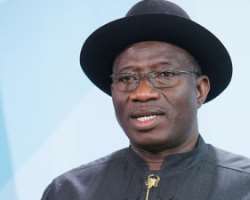 President Goodluck Jonathan on Tuesday forwarded a list of 11 ministerial nominees to the Senate for consideration and confirmation.

Those on the long expected list are former National Security Adviser, General Aliu Mohammed Gusau (Zamfara), a former governor of Adamawa state, Boni Haruna, former governorship candidate in Lagos state, Musiliu Obanikoro and the current Ambassador to China, Aminu Wali (Kano).

Others are Mohammed Wakil (Borno), Abduljelili Oyewale Adesiyan (Osun) Mrs. Jamilia Salik (Kano), Mrs Akon Etim Eyakenyi (Akwa Ibom), Lawrencia Labaran Mallam (Kaduna), T. W. Danagogo (Rivers) and  Asabe Asmau Ahmed (Niger).

If he is eventually given the Defence portfolio,  General Aliu Gusau, a renowned intelligent officer (rtd) who has held several positions in the top military echelon such as the Chief Security Adviser to past administrations.

He served as a National Security Adviser (NSA) to former President Olusegun Obasanjo and also as NSA to President Jonathan during his Acting Presidency days before he contested for the office of the President but lost out via Northern consensus candidacy.

It will be recalled that in September 2013, President Jonathan relieved nine ministers of their appointments. Those sacked then included Prof Ruqqayat Ru'fai, Olugbenga Asiru (Foreign Affairs), Olusola Obada (Defence), Ama Pepple (Housing) and five others.

Prior to then, the President had sacked the Minister of Defence, Bello Haliru, Minister of Youths Development, Abdulkadir, while Minister of State for Health, Dr Alli Patte had voluntarily resigned to pick up lecturing appointment in a United Stated University