Toyin Lawani Shares Postnatal Pictures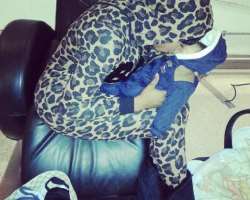 There is no doubt that most women are always strong after birth, you see them going about their normal activities few weeks after birth. It's just two weeks after Toyin Lawani and her fiancé, Trigakess welcomed their first child together. The pretty lady shared new hot pictures of herself.
The fashion designer and stylist posted several photos of her postnatal figure on her Instagram page.
Chatting with some of her fans on social media, Toyin advised some mothers like her.
"1st tip about #postnatalswag eat right and workout... u can't rush the process. Eat lots of veggies, drink loads of water, hit the gym but slow pace workouts and light weights. Get your body on track 1st"
While some fans have hailed her current shape, others said Lawani is giving 'false hopes' to other mothers as she probably went through surgery to deliver her baby.
They argued that it's impossible to look so great just two weeks after having delivered a baby.
"Possibly an old pix", one of the comments read, suggesting that Toyin posted an old picture. She later posted another picture of herself with her baby boy to show the images are new.