AT 70, UNCLE EDDIE RELIVES PASSION FOR MUSIC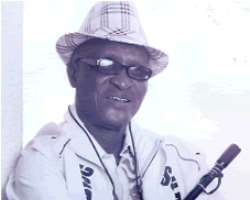 At 70, Uncle Eddie relives passion for music
By SOLA BALOGUN
Friday, March 12, 2010
Eddie
He started out as a journalist before embracing creative writing. And he was able to excel in both disciplines. Under Eddie Aderinokun, veteran journalist, elder statesman and poet who turns 70 on July 13 this year told Daily Sun recently that his love for music, rhythms and rhymes actually lured him into poetry.
Meanwhile, not many Nigerians would remember his long romance with music in the early 1960s and 1970s. the septuagenarian writer and former vice president of the Association of Nigerian Authors (ANA) disclosed how he worked as manager and promoter of various musical bands.
According to him, his musical career saw him working with the like of Fela Anikulapo Kuti and Segun Burknor either as promoter or marketer.
Said Aderinokun ' At that time, I was not a singer, but I co-founded and worked for Clusters International, a promotional outfit which made its mark as Beetles of Africa.
The outfit worked for many musicians among whom were Laolu Akins (who produced Sir Sina Peters); The then Lijadu Sisters who toured America and Europe, Mike Odumosu who played for the Osibisa, the London-based Ghanaian band among others. What we did for our top musicians is exactly what the likes of Kenny Ogunbe and Dayo Adeneye are now doing for our younger musicians today. I can say we pioneered music production and promotion before the records companies took over.'
Moreover, turning 70 has not deterred Aderinokun from appreciating music by both the old and young musicians. He spoke freely and authoritatively about younger stars whose music exhibit poetry. According to him, Tuface Idibia's African Queen, P Square's Do Me, D'Banj's Fall in Love, Olu Maintain's Yahooze and Eedreez Abdulkareem's Jagajaga are all poetic works both in composition and in instrumental back up.
Aderinokon who shares birthday with Nobel laureate Professor Wole Soyinka also disclosed how he would celebrate his birthday with the public presentation of his latest collection, Zero to Hero, which is the documentation of his travels in verse form. The poet added that the new collection celebrates creation and the mystery of existence in one single but carefully segmented poem. At the end of the poem, a closing glee rounds it off in a symbolic yet rhythmic manner.