Oando Says It Raises $1.6 b for Conoco Assets Acquisition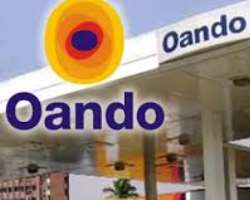 Oando Plc (OANDO), a Nigerian energy company, said it raised $1.63 billion to purchase ConocoPhillips' assets in the country.
'Barring any adjustments,' Oando should be near completion of the transaction, due to close at the end of the month, Tokunbo Akindele, its head of investor relations, said in an interview in Lagos, the commercial capital. 'We are looking at a total acquisition cost of $1.65 billion.'
ConocoPhillips' holdings include interests in oil-production leases and stakes in offshore prospects. Oando said in December 2012 it agreed to buy the assets for $1.79 billion as it seeks to become the top explorer and producer for Africa's biggest oil exporter. The acquisition was adjusted downward after the Brass liquefied natural gas asset was taken out, Akindele said.
The company paid a $435 million initial deposit and an additional $15 million in December. It raised $119 million in a private placement, got commitments from banks worth $815 million and also realized $250 million from the sale of East Horizon Gas Co., according to Akindele.
The acquisition is expected to boost production of unit Oando Energy Resources to about 50,000 barrels per day from 5,000, Akindele said.
As the government of Africa's second-biggest economy sold its power plants to private investors in September to end frequent electricity cuts, Oando plans to spend $600 million on power generation to boost supply, chief executive of Oando Gas and Power, Bolaji Osunsanya, said in the same interview on Jan. 9.
The '400 to 500-megawatt plant to be set up by acquisition or direct development is currently in the evaluation stage,' and expected to start in one to three years, he said.
Nigerian President Goodluck Jonathan handed control of 14 power companies to new owners including Siemens AG (SIE), Korea Electric Power Corp. (015760) and Transnational Corp. of Nigeria Plc on Sept. 30 to boost supply and end blackouts in the West African country where electricity demand is almost double its 4,000 megawatt capacity. South Africa, with less than a third of Nigeria's population of 160 million, has the capacity to generate about 40,000 megawatts of power.
'With the unbundling of the power sector, we're hopeful we can get counterparties and credit engagements,' Osunsanya said. 'We'll explore debt and equity for the projects.'
Bloomberg