How $10am billion was expended by NNPC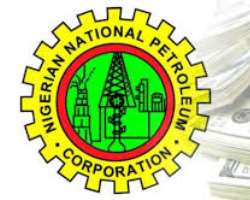 When embattled CBN Governor, Sanusi Lamido raised the false alarm about the alleged missing $49.8 billion, many Nigerians took him seriously. However, the ensuing harmonisation with relevant agencies proved that Sanusi lied to the nation.
It was on the strength of this false allegation that Obasanjo wrote and Rivers Governor spoke. The reconciliation had left an unaccounted $10.8 billion.
The NNPC at weekend explained how the remaining $10.8 billion was expended.
Addressing a press conference on Friday in Abuja, Mr Bernard Otti, the Group Executive Director, Finance and Accounts of the corporation, expressed surprise that despite clarification, misconception still trailed the reconciliation of accounts with the Central Bank of Nigeria.
While regretting that a section of the media had continued to distort facts of the case, Otti insisted that 'the $10.8 billion, which is currently the subject of ongoing inter-agency reconciliation exercise, is not missing but is expenditure incurred as part of statutory responsibilities which the NNPC as the national oil company executes on behalf of the Federal Government.'
He told newsmen that unpaid subsidies from government to the corporation, by NNPC account, amounted to $8.49 billion, which, according to him, constituted a significant portion of the yet-to-be- reconciled $10.8 billion. 'These expenses were incurred by the corporation while fulfilling its essential statutory responsibilities,' he said. Describing NNPC as a supplier of last resort, Otti explained that 'the mandate of ensuring that the nation is wet with petroleum products round the clock rests solely on the corporation,' submitting that 'the corporation is expected to discharge this duty irrespective of the prevailing international market conditions of crude and products.
'NNPC was the sole importer of products into the country. The corporation has successfully kept the nation wet with products, especially PMS, for the past three years as can be verified from the absence of queues at petrol stations during normal and festive seasons. It is significant to note that the government has not made any payments to the corporation in the name of subsidy during the period under review,' the official said. Aside these, Otti also told newsmen at the briefing that 'another area of huge expenditure on behalf of the Federal Government is the maintenance of national strategic reserves for petroleum products,' stating that 'at every point in time round the year, NNPC maintains huge petroleum products reserves on land and in the national territorial waters. 'For the purpose of strategic reserve, at the rate of 40 million litres of PMS national consumption per day, NNPC maintains about 32 days' sufficiency of petrol. The cost incurred in this mandate during the period under review is $0.37 billion,' He explained that 'another component of the $10.8 billion is the cost of pipeline vandalism and crude oil and product theft. Our over 5,000 kilometres of pipelines have been prone to incessant attacks. These associated costs of stolen and spilt products and crude oil, repairs and maintenance, and downtime of the refineries constitute a significant part of the yet-to-be-reconciled balance. 'Our account shows a total expenditure of $0.72 billion for products and crude oil losses and $1.22 billion for pipeline management and repairs. These figures are being reconciled by an inter-agency team and the outcome will be made public.'