Embark On House-To-House Obi Charges APGA Members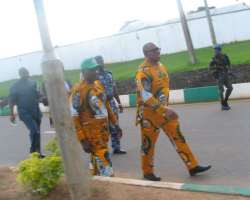 Governor Peter Obi says Local Government administrations should aim at raising quality of life at the grassroots. Governor Obi was speaking at APGA Local Government Election rally at Odaata Play ground, Ihiala. Governor Obi charged APGA Chairmanship and Councillorship candidates to nurture vision that would translate to people oriented programmes and projects. He reminded them that political positions were opportunity to serve and contribute to the uplift of the society.
The Governor observed that good road network across the State had enhanced movement and socio economic activities. He charged APGA members to embark on house to house campaign to mobilize people for the coming election.
Responding on behalf of the candidates, the APGA Chairmanship candidate, Ihiala Local Government Area, Mr. Barth Agwugosi thanked Governor Obi for giving them strong support and morale booster, assuring that they would line up to expectation.
Meanwhile, some members of APC in Ekwusigo Local Government Area have defected to APGA ahead of the coming Local Government election. The decampees declared their stand during an APGA Local Government election rally in the area.
In his speech, Governor Obi said APGA remained resolute in its commitment to make a clear difference and entrench principles of good governance. He reassured that his administration would continue to work in all sectors and in all the parts of the State till the end of his tenure, while his successor would continue from where he stopped.
The APGA Chairmanship candidate for Ekwusigo, Mr Jude Mbaegbu said they would adhere to the standard set by the Governor
At Ukpor, Nnewi South Local Area, the Governor also charged APGA faithful to approach the coming Local Government election as a family with unity of purpose. He urged the State electorate to vote only for credible candidates who would remain accountable to them. He reminded the people of Nnewi South that his administration was working in every community and has completed many road projects while some others were on-going and would soon be completed.
The Transition Committee Chairman, Nnewi South, Mr. Chieloka Okoye thanked the governor for his various interventions which he noted have transformed the area.
The Governor also visited Nnewi North, Awka North, Dunukofia, Oyi, Idemili, Njikoka and Awka South