GERMAN ARRESTED FOR ARMING DRIVER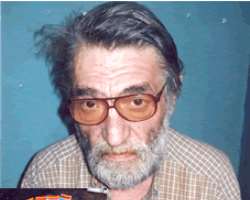 German arrested for arming driver
.Pistol, ammunition recovered
From NGOZI UWUJARE, Ibadan
Thursday, March 11, 2010
Hollanda
A German national, Mr. Plaus Hollanda, 66, has been arrested by detectives in Jos, Plateau State, for allegedly giving a pistol and bullets to his driver, Emmanuel Pade.
Police had found the pistol and 90 live ammunition in Pade's possession. He confessed it was his German employer, who gave him. The German, however, claimed it was the late Ibrahim Abacha, son of the late Sani Abacha, who gave him the pistol in Lagos, after he (Hollanda) was attacked by armed robbers thrice. Pade was arrested at a checkpoint in Napolis area of Jos.
According to Pade, 28, his master gave him the weapons for self-defence, especially, during crisis period. 'I do carry the pistol about, especially, each time my boss sent me on an errand to Abuja. I have been working for him for the past three years. I have never used the pistol for any criminal act,' he was quoted as telling his investigators.
According to the suspect, he was cruising in his master's Pathfinder Nissan Jeep, marked, BB 613 JJL, when he was stopped at the checkpoint, searched and the Brownie pistol, loaded with 90 ammunition found on him.
Hollanda, who told Daily Sun he had been in Nigeria since 1970s, claimed to be the late Ibrahim Abacha's friend. He said: 'I'm very close to the late Abacha family. The pistol was given to me by Ibrahim Abacha, for my protection and not for any ulterior motive. The Deputy Commissioner of Police (DCP) in-charge of Plateau State Command, Mr. Ikechukwu Aduba, told Daily Sun that police contacted members of the Abacha family because of Hollanda's allegation.
According to the DCP, Abacha's family admitted knowing Hollanda, but said they were not aware that the late Ibrahim gave him any pistol. Aduba told Daily Sun that it was only the President of Federal Republic of Nigeria that has the right to own the type of pistol recovered from Hollanda's driver. He said 'self-protection' adduced as reason by the suspect is not tenable.
He, however, said because of Holanda's ill-health, he would be handed over to the International Police (INTERPOL) for possible deportation, as he no longer has means of livelihood in Nigeria.