Refineries: Finally, oil workers cancel strike after meeting with FG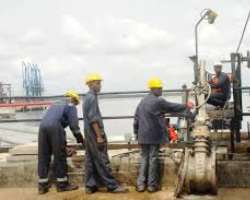 Workers in the oil and gas sector finally agreed on Tuesday to shelve the strike action it had earlier planned for this January over government decision to sell the country's four refineries.
The decision of the workers to cancel the planned action followed the decision of the federal government to shelve its earlier decision to sell the nation's four refineries. Leaders of the two major  labour Unions in the sector – National Union of Petroleum and Natural Gas (NUPENG) Petroleum and Natural Gas Senior Staff Association of Nigeria (PENGASSAN),  met with government representatives in Abuja on Tuesday night during which it was agreed that the government would now work with the unions in the oil sector to formulate workable business models and strategies for the refineries.
They also agreed that the ongoing Turn-Around Maintenance (TMA) which is already in process by the Ministry of Petroleum Resources should continue.
The meeting which was convened by  the  Minister of Labour and Productivity, Chief Emeka Wogu, was attended by  Petroleum Resources minister, Mrs. Diezani Alison-Madueke, President, National Union of Petroleum and Natural Gas (NUPENG), Mr. Igwe Achese, President, Petroleum and Natural Gas Senior Staff Association of Nigeria (PENGASSAN), Mr. Babatunde Ogun, Permanent Secretaries of the Ministries Labour and Petroleum Resources, Dr. Clement Illoh and Mr. Danladi Kefasi and national executive members of the two unions.
Their joint resolution was signed by the Alison-Madueke,  NUPENG and PENGASSAN Presidents, Igwe Achese and Babatunde Ogun and  the General Secretaries of the union. It was read by Wogu.
According to the statement read at the end of the meeting, "Trade unions in the oil and gas sector of the economy namely NUPENG and PENGASSAN have agreed with the federal government to engage in social dialogue to develop viable and workable business models for the nation's refineries..
"Based on the above understanding, the trade unions in the oil and gas sector shall not embark on any form of industrial actions over the subject matter."
The indication that the wind had gone out of the sail of the strike came last Sunday, when the presidency denied that President Goodluck Jonathan ever gave approval for the sale of the refineries, even though the government had earlier announced the set up of a steering committee that would drive the exercise.
The meeting scheduled for 2p.m. started at 4p.m. after the two ministers held a closed door meeting which lasted for over an hour with the presidents of the union.
Wogu had at the  commencement of the meeting, charged the participants to ensure that an amicable agreement is struck  to avert any strike in the sector." Alison-Madueke on her part, said the meeting with the oil unions was 'absolutely critical' on topical issues raised in the last few days.