Defection of five Governors has taught PDP bitter lesson, says Gov Kwankwanso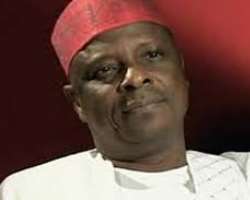 The defection of the G5 governors to the All Progressives Congress (APC) has taught the PDP a bitter lesson , Governor Dr. Rabiu Musa Kwankwaso has said.
According to the governor, the defection has now forced the party to learn to respect people.
Speaking to newsmen at the Yola International Airport shortly before his departure from the state after attending a wedding ceremony, the governor said the defection had jolted the ruling party into showing better regard for their members.
Kwankwanso is one of the five governors of the PDP who defected to the All Peoples Congress (APC) last year.
The governor said before the defection of the G5 governors, PDP did not accord respect to anybody regardless of the position he was occupying but their exit has now made the party to engage in deep retrospection and even attempting to woo them back into its fold.
'Before our exit from the PDP, nobody was thinking of wooing anybody in this country therefore, you can see that we have succeeded in at least putting them into their senses.
'They have now started thinking that Rabiu Kwankwaso is important, Baba Mai Mangwaro is important. I am sure now they believed that Wammako is important so also the governor of Kwara State and of course the Governor of Rivers State'.
He noted with glee that their defection hasforced the PDP to embark on fence mending efforts to prevent other members from defecting to APC.
He said he is happy they took the bold step of leaving PDP, pointing out that the APC accords him and all other members the respect they deserved.
He said, 'APC is so good. I am happy that I am now in a party that respects everybody big, small or medium.
'Anybody in APC is today being respected unlike the PDP where no individual, no group, no state not even a region is important to them."