Christians At Aliko Dangote's Office Cry Out Against Marginalisation…Outright Balderdash-Sunday Esan, PR Manager, Reacts!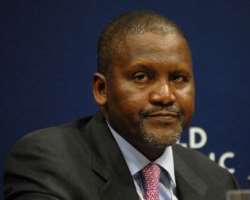 Africa's richest man, Alhaji Aliko Dangote, is a well-known personality in Nigeria and even across the shores of Africa. The business mogul of repute has several thousand staff working under his conglomerate. The Christian work force within the richest man in Africa's business empire, Dangote Groups Head office are said to be crying out against religious marginalization this much we gathered.
According to information at our disposal, Alhaji Dangote, has never withheld his support to the Muslim faithful in his company from the lower cadre to the senior level of the management, thus making it a norm.
"Every Ramadan season, Alhaji will give the junior staff even up to the cleaner Ramadan bonus. The senior management staff receives more financial support including gifts running into thousands of Naira to encourage them as they observe the religious tenets. Before now, he has been supporting the Christian faithful within the organisation with money during the Easter or Christmas period until recently when he stopped extending his hand of fellowship towards the Christians and solely focused on the Muslim staff alone," a source whispered to us.
We also gathered from another staff that, there is high-level of ill-treatment meted on the staff as they are not really enjoying the best of time as perceived by people from the outside.
As you read this, the Christian faithful at the Falomo-Ikoyi, Lagos based head office of the business tycoon will protest upon their resumption from the Christmas break as we learnt that the last Ramadan favoured the Muslim brothers who allegedly said to have received enormously from the philanthropist business mogul only for them, Christians, to be sidelined this Christmas.
In an effort to get the truth, an SMS message was sent to Sunday Esan, the image launderer of Dangote Groups and he replied thus: "outright Balderdash!". That was all he said before we published this story.
Meanwhile, Dangote Pasta based in Ikorodu was said to have laid off all the staff without pay, the reason is because the company has been sold to some foreign investors….We shall file in the full details shortly.